OneFabric Pop Up Tension Fabric Displays
The OneFabric pop up displays make exhibiting a breeze. The accordion like frames are lightweight for easy transport and durable for long-lasting presentations and exhibits. OneFabric pop up displays come in several sizes to meet your exhibiting needs, including 10ft, 8ft, 10ft x 10ft and table top display option. Frames are available straight and curved and graphics can be printed with or without endcaps that wrap around the frame. The entire display collapses into a durable nylon carrying bag for convenient storage and mobility. An optional rolling hard case is available which provides extra protection and easy transport. As an added benefit, the full color graphic are printed on eco-friendly One Planet Fabric which is made in the US from recycled water bottles.
OneFabric Pop Up Tension Fabric Displays
The OneFabric pop up display system is a cost effective unique and clever way to get noticed at your next trade show or other event. The system utilizes a fabric stretch material that is printed using dye-sublimation technology. This system is extremely quick and easy to set up as the fabric graphic stays attached to the frame at all times allowing you to be up and running in under 5 minutes. The 7-ounce woven polyester fabric Is extremely durable but still lightweight. Other advantages of this system include a frame that is lightweight and strong (saving your back and shipping costs) and extremely sharp and clear trade show ready graphics. Best of all, the display is reusable and updated fabric skins can be ordered for your future shows. This value is hard to beat!!

As an added benefit, graphics are printed on One Planet Fabric, an eco-friendly fabric made from recycled plastic bottles! One Planet Fabric offers unparalleled performance combined with certified sustainability and fire resistance and allows for amazingly vivid designs to make your brand stand out.

The OneFabric popup display system combines strength and reliability with style and ease of use. Named "popup" because of its "small to large" pop-up action, this type of display system is still one of the most portable trade show and display solutions available. The OneFabric system features several unique advantages over other similar Popup display systems, especially its light weight and simplistic ease of use.

xyzDisplays offers several accessories to go with your OneFabric display system at equally attractive prices including LED lights, durable soft and hard carrying cases, Waveline counters to use elsewhere within your booth. OneFabric displays come in many sizes and configurations to help make your next exhibit perfect.
One Planet Fabric | Eco-Friendly from Recycled Water Bottles
One Planet Fabric allows the trade show and signage industry to make eco-friendly choices with a luxurious fabric made in the USA from recycled water bottles.

The process starts with collecting and cleaning thousands of beverage bottles, which are then cut into tiny flakes. These go through a re-polymerization process to result in recycled chips. Finally, these are transformed into specially engineered yarns that include a unique chemical tracer to certify authenticity. All this process is carefully monitored by third party Global Recycled Standard to certify its compliance with internationally agreed criteria.



Using the latest technology at mills in North Carolina, the yarn is knit into fabric. The final step is a wash with a flame retardant solution, which allows use at any hotel or convention center in America. The result is an enhanced fabric, with a deluxe hand feel and unparalleled color consistency. Its exclusive construction allows it to stretch just enough to allow beautiful tension when in use, with a wrinkle-free effect. It is ready to be printed with state-of-the-art dye sublimation technology into large format graphics for events, trade shows, exhibits or signage.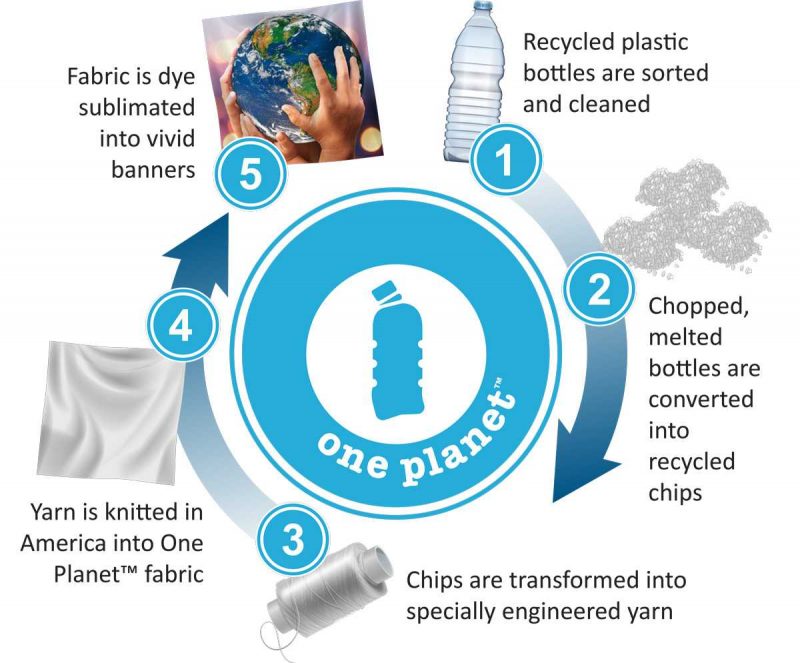 How Many Water Bottles Can Be Recycled Per Banner?
This luxurious polyester fabric starts from specially engineered yarns spun from recycled bottles. Banners printed with authentic One Planet fabric prevent plastic bottles from entering landfills or oceans. But there are other advantages. They also avoid the use of crude oil, reducing our reliance on petrochemicals. There is also a reduction of over 50% in the release of carbon dioxide during production. And to top it off, 85% less energy is used during manufacturing.

So how many bottles will your banner have? It's actually a very simple mathematical calculation. There are 45 bottles per every kilogram of yarn, which translates into 1 bottle per square foot of One Planet fabric.